More information about Pupil Premium funding can be found here and also how to ascertain whether or not your child is eligible to register.
The pupil premium is additional funding received by schools for each pupil from disadvantaged families.
Its purpose is to ensure these pupils make the same progress and have access to the same opportunities as other pupils.
It is the school's decision as to how this money is best spent.
It is allocated to schools based on the number of children who come from low-income families which is defined as those who are currently known to be eligible for free school meals.
This means pupils who are entitled and have registered for free school meals, however, do not necessarily take the meal are also eligible.
It also includes:
pupils who have been eligible for free school meals at any point in the last six years
children who are 'looked after' *(see bottom of page for full details)
To see if your child is eligible for free school meals visit the DFE website
How we spend the pupil premium:
Pupil Premium Report 2016-17
 Total funds available for pupils was £41,000
Pupils Eligible for Pupil Premium have always performed well compared to their peers in school with no clear difference in their progress or opportunity in school.
This year these pupils performed better than their peers in terms of the proportion achieving at or above expected progress in:
Speaking
Listening
Reading (word)
Measurement and Geometry
Using and Applying Maths
PSHE
In Reading (vocab) and Writing the gap was less than 3% from their peers.
Because of this, we use a pupil premium to support a range of approaches, equipment and strategies for our pupils which enables them to thrive and have equal opportunity.
This has included:
Sensory Integration assessments and motor programs and equipment to support this.
Subsidising of school trips
Buying uniform and hygiene products to boost self-esteem
Strategies and equipment to improve behaviour
Emotional support
Developing Independence skills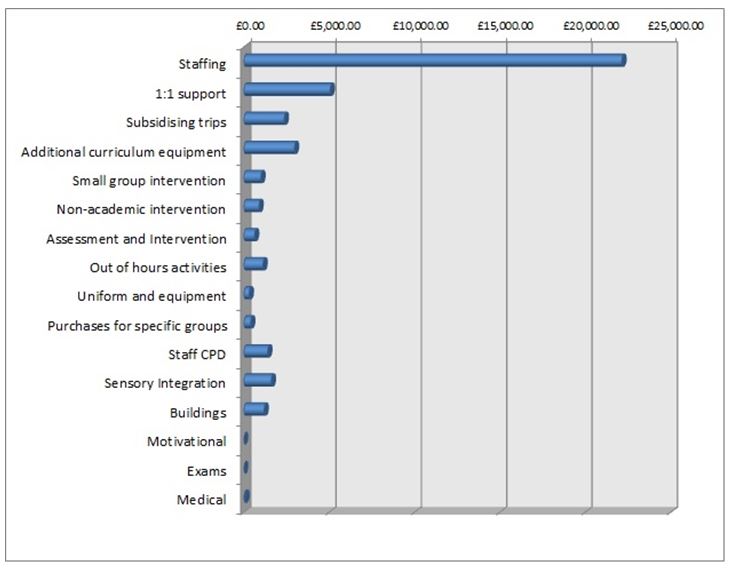 Larger Sums included:
Transition Coordinator
As Guidance Advice from the local authority have been reduced we have used Pupil Premium funding to support the appointment of a school-based Transition Co-ordinator to support those identified pupils between the ages of 14 and 19 to ensure a successful transition as and when they are ready to leave Sheringham Woodfields School.
This work involves:
working with pupils in class directly to learn about their strengths, needs and likely next steps
Supporting visits to post school settings
Supporting parents with the transition process from providing information, completing applications and visiting settings with parents.
Brokering packages with education and social care settings
This work has ensured that all leavers have received the necessary support required to ensure a successful and smooth transition.
In our second year we have added to this role the following:
Tracking past students to check their transition has been successful
Developing work experience opportunities for pupils and liaising with our Enterprise Advisor. The first benefits of this work will be two pupils starting work at a local supermarket.
Therapeutic Play
Over the past year the school has developed play therapy provision for those pupils eligible for Pupil Premium. This has consisted of 2 days of support per week, delivered on a one to one basis. This work has shown benefits to pupils' well-being, engagement, communication and social skills.
Sensory Integration
We continue to purchase support from an OT who individually assesses pupils, completes sensory motor programmes and delivers advice and support for class staff and parents. Equipment is then provided to ensure pupils receive a regular "sensory diet" to help maintain their emotional state and thus support learning, social interaction and positive behaviour.
Counselling
To support the emotional well-being of some of our more able pupils who are able to express themselves verbally, we have employed a counsellor from the Benjamin Foundation to work on a weekly basis.
Though there is no quantitative evidence for the success of this, the pupils are keen to see their counsellor and are positive about their sessions.
6th Form Independence Project
In order to develop their skills in planning their free time a group of pupils have worked together to plan three out of school activities with increasing complexity. Through this they have:
Used research skills to explore venues and transport.
Budgeted for their visit including travel, food and entrance fees.
Worked cooperatively to negotiate with each other their choices.
Practised communication skills using email and telephone to contact businesses.
Practised independence skills including road safety, paying for things, engaging with venue staff.
Broadened their horizons by visiting new places.
Achieving success towards their OCR course.
Proposed Spending for 2017-18 is £42,545
As well as the many small amounts we will be spending to support pupils such as with visits we will be spending the majority of the funds on:
Continued employment of our transition co-ordinator.
From September 2017 we will employ our Play Therapist for four days per week to:
continue the therapy already started
extend their work to more pupils
Support her with her music therapy training to add to the repertoire of approaches she can use in school.
(Total costs of the above £24,000)
Continue the Counselling offered through The Benjamin Foundation. (£2,000)
Provide Eye Gaze equipment and training to support physically disabled pupils engage with computers. (£5,200)
Complete Sensory Integration assessments for new pupils and purchase any equipment required. (£2,000)
Employ a teaching assistant with an occupational therapy background to support the effective use of Sensory Integration across the school. (£2,800)
Extend the 6th form independence project from last year to include a residential trip next summer. (£1,000)
———————————————————————————-
———————————————————————————–
All spending of pupil premium funds is planned and is either pupil or small group specific. Plans include clear aims, actions to be undertaken and review points to assess the success of the plans and inform future decisions.
The school maintains case studies demonstrating impact and will continue to monitor the progress of this cohort in terms of academic progress and having the same opportunities as their peers.
———————————————————————————–
* In UK law, children in care are referred to as 'looked after children'. A child is 'looked after' if they are in the care of the local authority for more than 24 hours. Legally, this could be when they are:
living in accommodation provided by the local authority with the parents' agreement
the subject to an interim or full care order or, in Scotland, a permanence order
the subject of an emergency legal order to remove them from immediate danger
serving time in a secure children's home, secure training centre or young offender institution
unaccompanied asylum-seeking children
A child will stop being 'looked after' when they are either adopted, returned home or turn 18. The local authority will continue to support children leaving care at 18 until they reach 21.
Our data from this year and previous years show that those pupils eligible for pupil premium are not disadvantaged when compared to their peers. All said pupils make a good level of progress at Sheringham Woodfields School.