Despite challenges posed by winter weather, construction of the new Therapeutic Centre at Sheringham Woodfields School is on time and on budget, and on 11 March 2020, the 'topping-out' ceremony took place. Members of Norfolk County Council joined staff and pupils as builders Draper and Nichols completed the final section of the building's roof.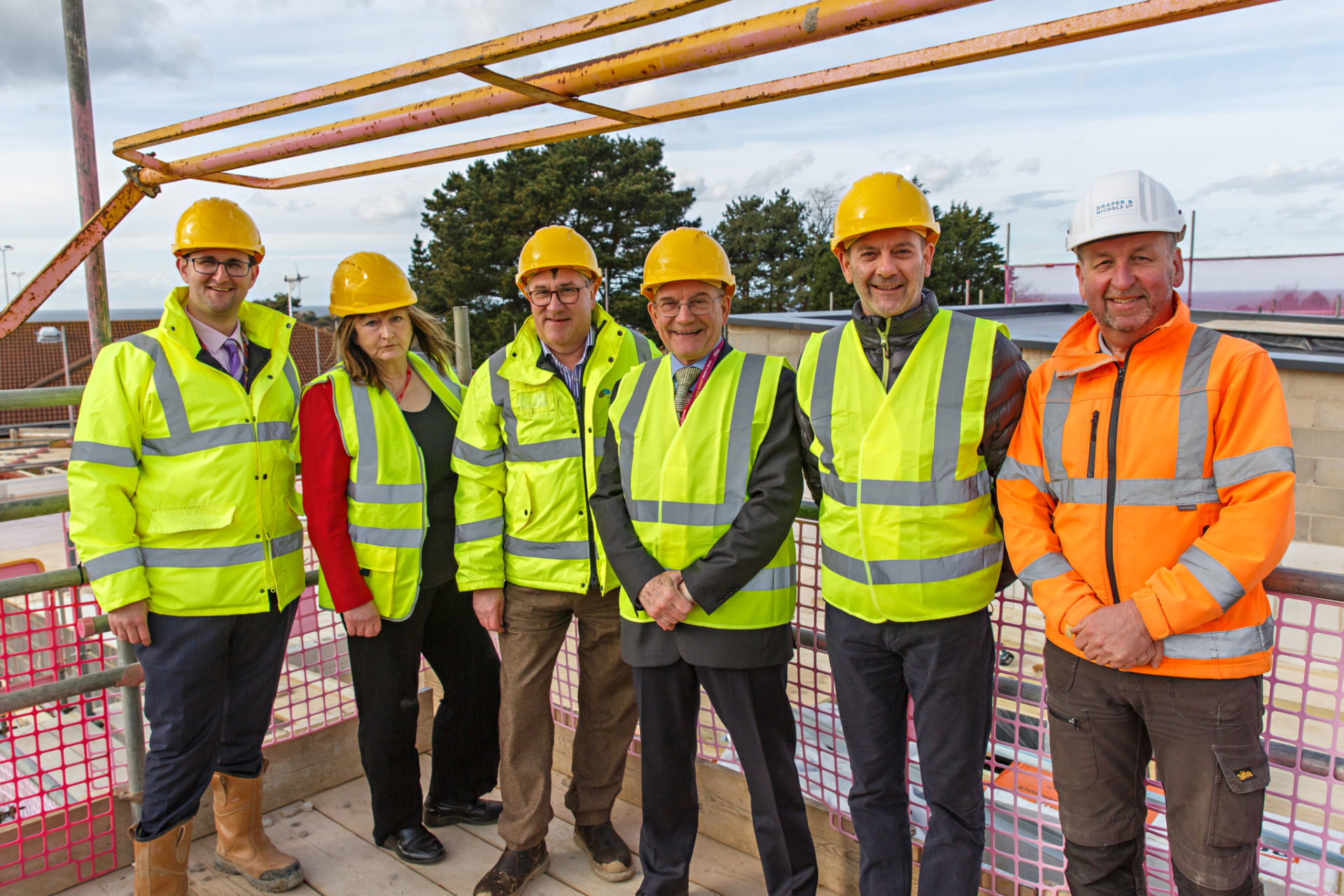 When completed and handed over in late Summer term 2020, the centre will increase the children's access to important physical therapies, and the incorporated increased group work space will create twenty-four extra school places.  Ten of the children filling these places have already arrived, as have eight new members of staff.  Work has been undertaken within the existing school buildings to create new classroom accommodation for them
Head Teacher James Stanbrook is delighted with progress, saying:
"Credit must go to Draper and Nichols, who have managed to keep to both the timescale and budget to bring us to this point. This building will bring a new and exciting aspect to the work we do here at Sheringham Woodfields, and I'm really looking forward to welcoming a further fourteen pupils to the school in the coming months. The formal opening is scheduled to take place in September 2020.
"The new facilities will help relieve the pressure on demand for special school places as part of the local authorities SEND Transformation Programme. The facilities will also be made available to other local organisations, therefore benefitting the wider community."
Cllr John Fisher, Cabinet Member for Children's Services at Norfolk County Council added: "This is such an exciting milestone for Sheringham Woodfields School, its community and most importantly those families and children who are already getting the education and support they need in the extra places that this fantastic new building has already created.
"It also marks the first increase in new specialist school places we've promised as part of our pledge to invest £120m in special needs education in Norfolk, and I'm pleased to see our ambition starting to come to fruition here in North Norfolk."