Summary of Year 7 Catch Up 2017-18
Year 7 Catch Up funds are allocated for pupils in year 7 who have not achieved expected attainment in year 6.
The aim of the funding is to close the gap on attainment with their peers.
This obviously includes all of our pupils and despite our best efforts it will be unrealistic to achieve the level of attainment of their mainstream peers.
We consider the funds have been successful if the pupils are able to achieve expected or above expected progress in elements of Literacy and Numeracy and the nearest equivalent strands for our PMLD pupils.
In 2017-18 there were ten pupils in year 7, three of whom have profound and multiple learning difficulties.
Interventions with these were all done at an individual level and were led and supported by Hannah Whiting; our lead for Boosting Achievement and Inclusion.
This involved:
Direct discussion and support to class leads on developing strategies to improve progress.
Progress meetings using data to highlight those not on track to make expected progress.
Reading Intervention Scheme
Additional 1:1 Reading Support from an HLTA
Sensory Stories purchased for PMLD pupil
New ORT Scheme Reading books
Hi-Lo Reader books purchased
Problem solving toys bought for PMLD
Direct training with Teaching Assistants on approaches to literacy and numeracy.
A whole school focus for improvement on Using and Applying Maths
A whole school focus on improvement in Reading
Progress data for non-PMLD pupils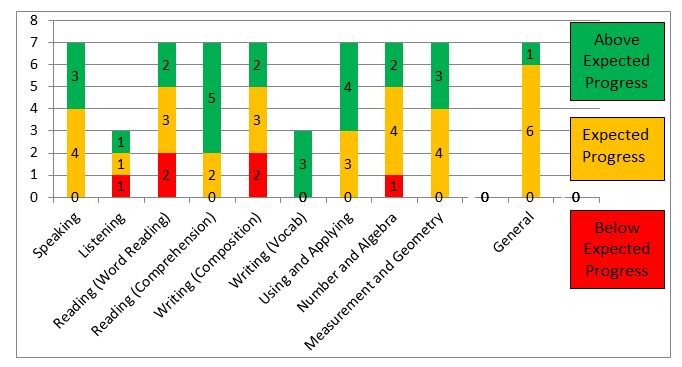 This was a really strong set of data showing the interventions were very successful.
Particularly pleasing is the proportion of pupils achieving above expected progress.
One pupil underachieved in 3 strands, she will be the focus of targeted interventions again this year including a change of class.
Progress Data for PMLD pupils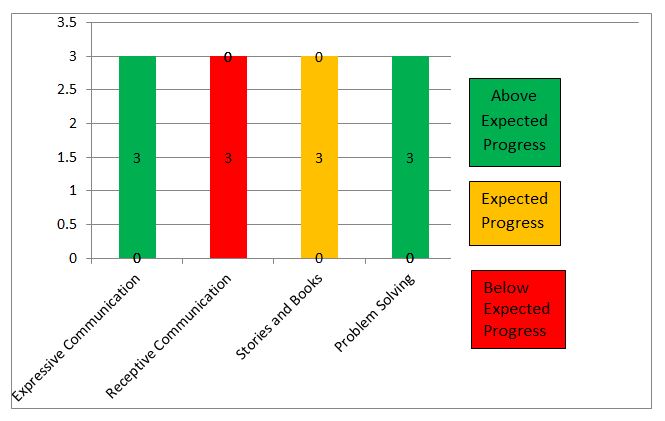 Again a very strong set of data showing the value of the interventions and pupils achieving in the majority of strands.The above strands of our PMLD curriculum are the closest linked to Maths and English
Three pupils did not achieve expected progress in receptive communication. All find processing, following or responding to prompts and  instructions very difficult.
They will be the focus of targeted interventions again this year.
Year 7 Catch Up 2018-19
This year there are five year 7 pupils who will all receive individual interventions.
This will again look at:
Focussed meetings on progress between class leads and SLT
Direct reading time with school librarian
Support around approaches to learning to meet individual needs.
Additional resources
Staff Training in literacy and numeracy.
Additional external supportif required.
In 2018-19 the school has been allocated £5,500.