As we draw close to the end of 2019, Simon and I are extremely proud of the progress being made on the new therapy centre. The drone photo below (kindly provided by Chris Taylor) shows the building taking shape. We are approximately at 12 courses of brick above the finished floor level. The second lift of scaffolding is due in the next week or so to enable final 6-7 courses of brick to be installed across the majority of the building before refocusing on the rebound room which needs to go up the same height again!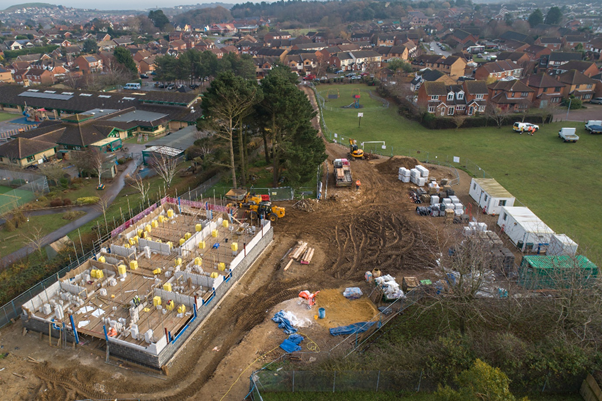 A new soakaway has also been installed to at the end of the new building to handle the rain water from the new build along with rain water from part of the existing building.
It is hoped by the end of January 2020 that the building will be water tight.
We need the weather to be kind to us in the coming few weeks so please cross your fingers for us!
More updates in the new year.
We are pleased that many of the suppliers, contractors and trades are coming from within the county of Norfolk.
We are currently raising funds to purchase new outdoor equipment for the grounds that will surround the new build. If you would like to support/donate please contact myself on 01263 820520 or email manager@sheringhamwoodfields.norfolk.sch.uk
Many thanks
Matthew Smith MBE